So of course, in honor of the movie (FINALLY) being released, I'm reviewing To All the Boys I've Loved Before. shhhh, I know the movie came out a long time ago. This lovely, lovely, lovely book is written by the equally as lovely (and omg, gorgeous!) Jenny Han. It is the first in the trilogy with the same name, To All the Boys I've Loved Before. It's a romance contemporary that is absolutely squishy. Ha! And you thought that I couldn't love romances. This book is my fav. Like, of all books. I ACTUALLY PICKED A FAVORITE AND IT IS THIS BOOK.
No, Peter, I'm not. But thanks for asking. But we shall continue on with the review before the world implodes.
---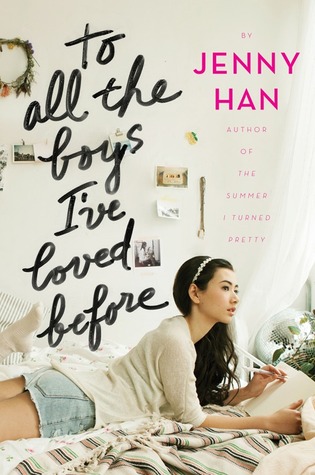 ---
Likes:
A couple summers ago I was in such a romance/contemporary kick … and when When Dimple Met Rishi didn't satisfy that desire, I put a hold on To All the Boys. Lemme set the scene. I was waiting for my mom to get out of turning in some work papers (she was talking to people for foreeeeeeever); I was reading Trials of Apollo #2 and was entirely done with the book (spoilers, I hated it). I also had TatBILB with me. Out of boredom, I picked it up. Read the first page. Read the next ten. Fifty. Had to go somewhere … thus stopping. Read the remaining 200ish pages until really late at night. Squealed to my annoyed sister. I dunno … did I love it? UM, YES.
I'm usually not a romance reader – because yuck – so I really can't say how good it is in terms of that, but I absolutely adored the book. It was a little bit predictable (even to me) and mega cheesy, but omg I am in love. The book is just so light and cute (while still giving me a few heartattacks). While it IS a romance, it still focuses more on the family aspect and how Lara Jean loves her sisters and dad so much. I have to say, though, my favorite thing about the book was definitely LJ. (Okay – after Peter, of course.) I just found myself relating to her SOOOO much. All of her sentimental squishiness is exactly me, once you get past my punk layers, lol. I had just never had a book where I related to a character so much. I think that I also cried because of that?? Possibly??? (I wrote a post on that.)
---
Characters:
Obviously, I loved Lara Jean. She is like the Ultimate Cinnamon Roll/Hufflepuff package. BUT. She's not entirely a pushover. She has her limits and knows her morals. She may be soft, but she won't be entirely bent. I just really enjoyed being in Lara Jean's head. (She's also kinda funny, so there's that.)
Okay, move over LJ, time for the REAL star of the show to come in. PETER KAVINSKY. Ahhh. Peter K. SO. He's a bit of a jerk (or a huge jerk, according to my big sis). Peter is a jock and is popular and is super cocky and the list just goes on and on. We find out, though, that Peter is a total softie and is actually sweet and considerate and slightly confused. (I feel ya, man) Basically, he is everything.
If I'm not LJ, I would be Kitty. She's Lara Jean's nine-year-old younger sister and let me tell ya, she is a firecracker. Kitty has no problems being bossy and doing whatever she wants. Unlike all the other characters, she has no soft side. She is a total Slytherin. Basically she is my kid sister. I love her. Margot, however, I did not like. Rereading the book four or so times, I have come to understand and respect her more, but we are still on very tense terms. Mr Covey (Daddy) is, if a little unrealistic, entirely sweet and a dork and I love him. Gen is … like, I get the girl? But AHHHHHHHH. *whispers murder*
Chris is also completely fab. I want one.
---
Writing/Plot:
I had already said this, but the whole plot/book was cheesy and predictable … but I am in love, okay? Okay.
The whole book just flew by. You know those books that you feel like you read in twenty minutes … but it turns out that it was six and a quarter hours? Yeah, this was one of those books. The writing style was so light and engaging, LJ was a frabjuous narrator and was funny, the characters kept you wanting more. Basically, it was just awesomesauce.
---
Dislikes:
I really don't have many quibbles with this book. Like, really. I don't. Maybe it was a little predictable? (but I felt that that just went with the story 😉 ) That Gen should have been sent to the military? The only thing that I can actually think of is Margot. I get her, but I was just not a fan.
I dunno, mate. It was pretty good, to me.
---
Other/Summary:
You know the age-old bookworm problem of when others ask you your fave book? Specifically non-bookish people? Yeah. Well, TatBILB is my answer. That's right, I actually picked a favorite book. I just loved it so much. I've already gotten *quietly counts* four people into the books, two of whom absolutely adore them. It is a romance and there is romance in it (well duh), so if that ain't your thing, THEN STILL READ IT. *smacks you delicately with the book*
Really, though. It is kinda cheesy and predictable, so then if that isn't your thing, then you might want to just move right along. (I DO hope that you try the books, tho! ❤ )
⭐ ⭐ ⭐ ⭐ ⭐
---
A Quick Note on the Movie
Ahhh. Ah. ah. So the movie was fantabulous. (Yeah I just said that) Within 36 hours of the movie coming out, I had watched the movie three times, four within 48. (Twice by myself, twice with my sister) HOWEVER, it simplifies a lot of the plot, basically takes out the love triangle, and rom-comifies it. So pretty much, I didn't love it as much as the book. BUT IT IS STILL SO GOOD, OH MY LORD. I def. recommend
---
So how about it, friends? Anyone else HUGE fans of the trilogy? The movies? IS ANYONE ELSE ABOUT DYING WHEN THEY HEARD THE ANNOUNCEMENT FOR THE SECOND MOVIE? Because obviously, I'm not, ahahaha ha. ha. Really, though! Let's chat favorite romances and Netflix shows!