Hi friends! So I hope that you are all doing well and aren't suffocating in school/work/life! I mean, c'mon. That'd be sad.
Anyways, today's review is a super special, super amazing book: All the Bright Places by Jennifer Niven. It's a beautiful contemporary and it is released as a movie later this year! (!!!!) It is a contemporary dealing with mental illness and life and friendships and if this isn't just the most beautiful book ever. 😍😍😍
(Also, it's been a hot minute since I forgot to schedule a post 😉 )
---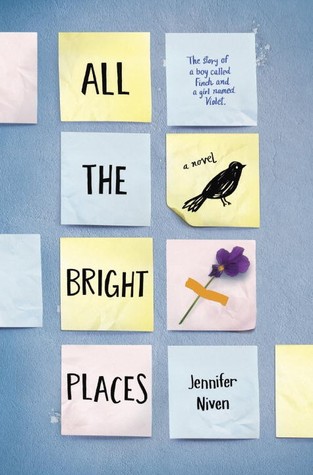 ---
Likes:
Right from the very first sentence, this book caught me by surprise. I liked that.
As with many books, I went in not knowing much (I really like being surprised by books). I knew that it was a contemporary, that it was being made into a movie (Justice Smith! ❤ ), that it had elements of mental illnesses. That was about it.
So firstly, I loved Finch. He surprised me in so many ways. He was a dimensional character, and by no means ordinary. And, sadly, he reminds me a whole lot of one of my friends. Finch just breathed life and meaning into the book. He made me laugh and cry and laugh-cry.
AtBP caused me to have a serious existential crisis and a half (which it actually isn't that hard to cause in me). It's just so DEEP and THOUGHT-PROVOKING. There is this crescendo of importance that is just building, building throughout the whole book. It kept me engaged; not wanting to tare away. It made me want to do something. To hide in a closet. It gave me all the feels.
(I actually started reading this late evening and stayed up til four reading it … I only had about seventy pages left before I had to shut my eyes. I also got up about 2/3 of the way through and completely cleaned my room, so.)
---
Characters:
As I've said, Finch was my absolute favorite. He's like the tragedy … just without all the angst. He is relateable to everyone's anxious side. Finch is entirely humorous, especially when he shouldn't be. Honestly, I think that everyone would want to have a (stable) Finch as a best friend.
And, of course, Finch is our lucky winner of the mental illness. It was painful and beautiful and, honestly, it is such a tragedy to see that play out. To slip inside the head of what it sees and feels like to be in that position. Jennifer Niven wrote his character perfectly and beautiful.
Violet, however, I wasn't so much a fan of. Perhaps it was because I found so much love in Finch, but no matter. She, much like Finch, has difficulty living out her everyday life … but it is portrayed immensely differently. She has a temporary sort of depression and wants nothing to do with anyone. Little by little she learns to live in the moment and enjoy life. However, I still did not like her. Found her annoying.
---
Writing/Plot:
There was nothing significant about the writing, at first. But as the emotion and stakes grew, Ms Niven's writing strengths really came out. She knew how to write wonder and heartache, all while keeping the reader without being too depressed to read on.
This book. It took me on a roller coaster. You know how some books just … mean so much to you? You know how they will never leave you … how they'll just change your life? That is how AtBP was for me. It gave me the feeling of never being the same. Tears were all but in my eyes the whole book for so many different reasons, I may never be able to know it all.
---
Dislikes:
Violet, though I can't entirely say that she was a con. While I, personally, found her annoying, those are just the characters that we learn from the most, is it not? Many of her struggles, I related with. If she were a character that I enjoyed more, I may have overlooked her flaws, many of which I also carry. But mostly, looking at her through Finch's eyes gave me a perspective of all those characters that I dislike, and to a larger scale, people that I dislike. That to someone, they are everything. You are merely looking through a facet of a diamond that needs a little more polishing.
Out of that little food-for-thought, I also found the pacing to be funny. Don't get me wrong, I rather enjoyed it … but there was just something that felt off about it. *shrugs*
---
Other/Summary:
I think that all of my poetry is done, for now. So I shall warn you, this book isn't just some fluff to read on a weekend. It will stay with you and change your life. It holds so many different levels of depression, but also of hope. It may be triggering to those of you sensitive people out there (there's no shame in that!).
If you read it, though, I severely hope that you get something just as rewarding – or even more so – out of it than I did. If not, then I hope that you managed to fall in love with either Violet or Finch and had a good read.
In short, bring it on, Jennifer Niven. I think that I may have just fallen for your words.
⭐ ⭐ ⭐ ⭐ ⭐
---
Have any of you read this book, or have found one that has changed your life (for better or for worse)? Also fun fact: I changed my rating to a 5 star (from a 4) as I wrote this review! Anyone else desperately checking for a movie release date? lol