Haha, I was just going through ANOTHER reread of Jenny Han's To All the Boys trilogy and realized that I hadn't yet reviewed books two and three. So here we are!
This is a review for PS I Still Love You, which is book two. It's also getting a movie in 2020 (they just finished up filming a week or two ago) and I'm psyched!!! I love Jordan Fisher … so we'll see how he does playing John Ambrose… 😉
Anyways! Thanks for stopping by and reading my post! As always, comment and chat with me, lovelies!! ❤ ❤
(note: this review does let you know the turn out of the love triangle in the first book, so just be warned)
(reviews: book 1)
---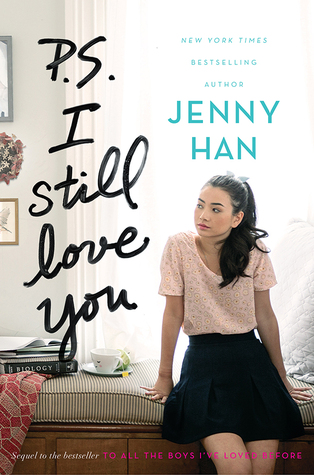 ---
 Likes:
It takes up IMMEDIATELY after TAtBILB, which is good. Because I may or may not have died after that cliffhanger of an ending…
Anyways. This book has a lot of focus (though it isn't entirely) on the downs of relationships and obstacles, etc etc, which I really liked. I felt like the first book (whaaa? who woulda thought that I'd compare the two!) was more on the highs of a relationship.
John Ambrose McClaren replaces Josh, in a sense. And … I liked John! Maybe not for LJ, but I really liked him. (I felt that they were just too similar) I def liked him more than Josh, haha.
PS had a lot of my favorite scenes from the whole trilogy. All of the opening chapters, the USO party and Assassins (you'll get these when you read it 😉). Loved it. And everything with Stormy is absolute perfection.
---
Characters:
As always, Lara Jean is fab.
In the beginning, I got a little annoyed with her because she's so … wistful and it drives me insane. (Like when she keeps saying when her and Peter break up … idek) But other than that, I loved her!
Peter still is tied (with LJ) for being my favorite character. He's (sadly) not in this book as much, but when he is, he's being super cute and thoughtful and just a general heartthrob. (Except for one seeing where he's a total jerk, but whatevs)
I already mentioned John, but I liked him. For me, personally, he was a little too … self-assured? Perfect? Like, even his flaws are perfectly calculated.
KITTY IS IN THIS ONE A LOT. I love Kitty. She is super spicy and crazy and omg, that girl is perfect. Stormy is also a wildcard, and she will completely shimmy her way into your heart (quite literally).
---
Writing/Plot:
This book is basically a repeat of the first, just swapping out some new players. And, oddly enough, I was totally okay with this.
I loved a lot of the dynamics of the characters and the struggles that LJ and Peter and all the others felt v realistic to me. Relationship troubles are a part of realtionships. I dunno. just a fan of this.
And as always, the writing just flies by. It is so contemporary and so light, even when in the thick of all the emotional drama. You can sit down and read through fifty pages without even realizing it.
---
Dislikes:
I disliked John when compared with Peter. I just … I am a loyal groupie of his. 😉
It could also being annoying (though I somewhat enjoyed it), that it shared the same formula with the first book. It seems pretty predictable, but eh. Isn't every romance/contemporary??
Lara Jean, at times, I could see get annoying. (Of course, I loved her, lmao) But she just seems to throw everything away and is v wistful.
---
Other/Summary:
So, in conclusion, it is a worthy sequel to To All the Boys I've Loved Before!!
There are so many scenes that just make me smile to myself. Many words of wisdom. Family focus. Peter. What more need I say?
It doesn't so much end in a cliffhanger (it was meant to originally be a duology), but you'll definitely want to quickly move to the next book to discover what happens next!!
⭐ ⭐ ⭐ ⭐
---
What are the books that you will forever and always reread? How do you feel about romance books? Are you an optimistic/whimsical personality like LJ? Let me know down below!!