Happy end of April, folks!
Wow. Can you believe that it's already May? (I assume that by the time that you read this, it will be May lmfao) I'm kinda having difficult wrapping my brain around it. 😆
Anyways. Today's review is a book that is particularly close to my heart. I kind of go into that in the review … so I'll hold off on explaining it …. but I really hope that you read (yea – you know who you are) and enjoy this post. And the book. Which is…
Forgive Me, Leonard Peacock by Matthew Quick.
Enjoy.
---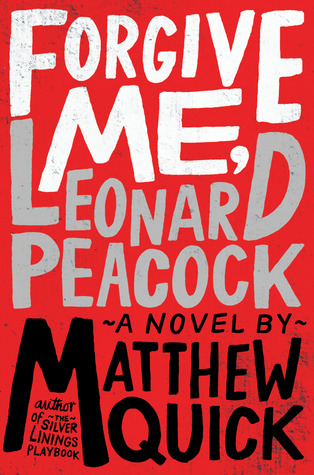 ---
Likes:
This. Book. It is just one emotional impact after another. It doesn't dumb anything down or softens the edges. It is unapologetically itself – and that is something that is somewhat refreshing in an "oblivious" world.
So Leonard is suicidal. It's a fact. We are taken on this day-long (though there are plenty of flashbacks) emotional journey with him through what is going to be his final day. We see the people that mean the most to him – there are four – and why. But most importantly, we feel the emotion. And – this is the scary part – I think that there is something about the book that everyone, and I mean everyone, can relate to.
The book is raw. Powerful. Deep. The writing is yet, somehow, light. It is definitely a YA contemporary.
There are moments in the book that I feel uncomfortable (like every scene with Lauren), but even those felt like they had a purpose (I mean, they did). Actually, the whole book gave off weird vibes and was just … yeah, but I still loved all that.
---
Characters:
Leonard isn't just some dumb, depressed kid. Okay, yeah. He's depressed. But he is a deep-thinking guy and I think that that is partially why he's on the path that he is. Nobody cares about him or sees him or understands him. It's so tragic … but yet, that made it great. Leonard was actually a character that I enjoyed. I liked being in his head. I liked his thought-processing (which is scarily similar to my own). How, despite his situations, he still tries to find good in everything and everyone. (Not in an optimistic way, but rather as a last ditch-effort.)
My other favorite character (because I loved Leonard) is Walt. He's the super old neighbor who loves Humphrey Bogart movies and smokes and says to hell with it because he'll do as he pleases. I love how he and Leonard connect – their relationship was one of the best parts of the book. Walt genuinely cares about Leonard and that is just something so beautiful in this dark book.
Another fabulous character (have I ever loved this many characters in the same book before?) is Leonard's teacher, Herr Silverman. This dude. He is … such a cool guy. That sounds lame, but it's true (not sunglasses cool but rather personally says hi to every student cool). Herr Silverman gets in the thick of it as the book progresses … but he handles Leonard in such a good way and tries his best. This guy puts his all into everything, even getting nothing in return, and just comes back pushing even harder.
Personally, I found Lauren annoying. She was super cliche … but yet I feel like she just fit in the story. As with Linda (Leonard's mom), I was sighing and rolling my eyes at her the whole time. Like, let's face it. She was a sucky mom, but I can understand her, sort of? And how Leonard just accepted that was both heartbreaking and beautiful.
---
Writing/Plot:
While the writing wasn't a selling point for me, it was okay. I DID like how it balanced a fatalistic humor that Leonard had and a contemporary lightness style of writing and different formatting and the haunting heaviness of the topic. It was fantastic.
As I (and the book summary) have already said, it's just following a single (1) day of Leonard's life – the day that he kills himself; the day that he kills Asher Beal. The plot didn't feel rushed … I mean, it did, but it was very appropriate for the topic and feel. Everything just felt real and raw and I am so here for this.
---
Dislikes:
Honestly, there's not a whole lot here that I disliked. I mean, there were things about the book that I didn't like (like how awful Asher and Linda were) and how there were uncomfortable scenes … but those were all a part of the story (quite pivotal, actually) and I loved them for that.
I do have to say, though, that Lauren really bothered me. She is 101% the stereotyped homeschool Christian girl. Like, that was a part of the story … but gah! That did drive me crazy!
---
Other/Summary:
This book … is one of the most impactful books that I've read. Ever. It literally haunts me and I think about it all the time.
The first time that I read it was probably two years ago and I listened to it via audiobook (totally recommend; the audiobook was fantastic) and I couldn't stop thinking about it so I reread it the beginning of January and it was just as amazing as I remembered it being!
Now, I will warn you. This book is very triggering. The author doesn't hold back when talking about suicide and abuse and other very heavy topics. Loads of language, so maybe don't read it when mom is hovering over your shoulder.
Also I'm kinda hesitant about recommending. On the one hand, it is a very powerful book that I feel that everyone should read … but then again, it's super heavy and I would be scared to give it to someone who's having a bad day or what not. It's definitely not for everyone.
I also feel the need to mention the ending. There's been lots of complaints over how it ended, but personally? I loved it. In my experience (which tbh hasn't been a lot), it seemed realistic. It felt realistic. I understand the turmoil over it, but I just wanted to put it out there that I liked it.
⭐ ⭐ ⭐ ⭐
"I feel like I'm broken—like I don't fit together anymore. Like there's no more room for me in the world or something. Like I've overstayed my welcome here on Earth, and everyone's trying to give me hints about that constantly. Like I should just check out."
---
Has anyone read this? Is going to? ARE YOU LIKE ME AND LOVE SUPER SAD AND/OR DEPRESSING BOOKS? because i do, haha. could you guess? Anyways! I hope that you all have a fabulous day! Let's chat! 🙂