Heeeey bookish friends! I hope that this post finds you well! (I … am okay. When this goes up I will be at a big lab test so … haha ha *dies*)
Anways! If you've followed my blog for any amount of time, really, than you should know that I absolutely adore the trilogy Splintered (AG Howard). Probably one of my absolute favorite series of ever.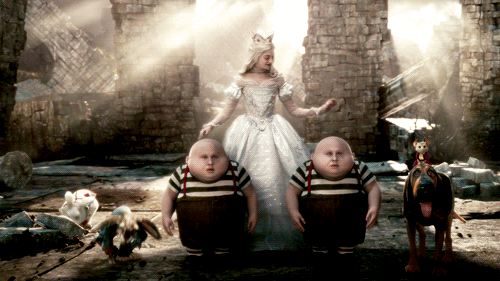 Sadly, my string of reviews for them have come to an end. That's right, today I am reviewing the third (and final) book, Ensnared. I am crying too. but I hope that you'v enjoyed my reviews! Hopefully I've convinced at least a few of you to pick them up and read 'em!
(Also – some fantastic news that I forget to add to my last post! Last week we reached 100 followers! Thank you all so much; I love you and really appreciate each of you! Blowing you all non-creepy kisses! 😘 )
---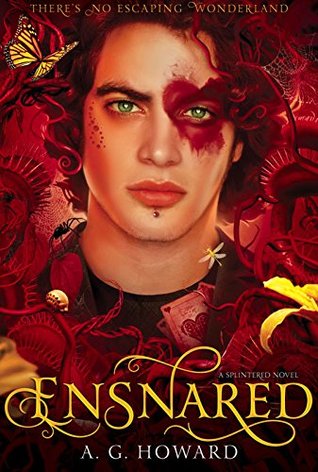 ---
Likes:
I actually just bought this book and it showed up and it was an ARC. I mean, I've always wanted an AG Howard ARC, but that wasn't exactly what I had in mind, lol… But anyways! This may actually very well be my favorite book in the trilogy.
In this, we are almost completely in Wonderland (of sorts) and it picks up right after the cliff-hanger left by Unhinged.
Ensnared was probably the wackiest of them all. We're in some sort of hidden section of Wonderland and power is thrown around and craziness ensues. Alyssa somewhat manages to behave herself. It is just a total yes.
---
Characters:
This, my friends, is the book where I finally like Jeb. Though he is still completely annoying and deserves a good punch in the face or five, I understand him. I feel the hurt from all of Alyssa's … Alyssa-ness. He is also slightly power hungry and that is an absolute joy to read.
Alyssa's innards are still confused. Does she like Jeb? Morpheus? WHY DID SHE MESS EVERYTHING UP IN BOOK TWO? Despite all of that (ugh) inner turmoil, I actually – somewhat – liked her. Finally, she's taking charge for the good.
To finish up our main trio, Morpheus is just chillin' in the back, doin' his thing. Of course, he has a grand master plan and is toying everyone on marionette strings. IS THERE ANY OTHER REASON I WOULD LOVE THIS BOOK?!
I have decided that I hate Thomas Gardner. Alison still sucks. Chessie is adorbs.
---
Writing/Plot:
Still love Ms Howard's writing. It manages to be modern and contemporary without taking from the story. And may I say, she knows how to write crazy weird.
This book focuses more on Jeb and on his inner struggles and the skeletons in his closet, as well as getting baaaackstory for Thomas and Alison (which was, like, some of my favorite scenes, tbh). I originally thought that I would dislike those aspects since – you may know – that I hate both Jeb and Alison. Well! That was not so!
It also wraps up the whole trilogy beautifully. I happened to love the ending (though I know that some really disliked it). Once you've read this book (or are totally okay with huge spoilers), I'd rec reading this post by the author and her opinions on the book/trilogy ending. It is fantastic. (And there are nonspoiler sections)
---
Dislikes:
Still absolutely hate Alison. Even in the flashbacks (that I rather enjoyed) I greatly disliked her. Ugh. Dislike is too passive a word.
While for the most part, the book is pretty evenly paced, there is some plot/pace cramming. A few things leading up to the ending seemed pretty … convenient to me.
---
Other/Summary:
Maybe my favorite in the trilogy, it beautifully, satisfyingly, and realistically wraps up the series. Plenty of all of the characters, seeing their strengths and their flaws. Teamwork! Murder! All the good stuff.
There's still plenty of violence and gore (don't worry – not too descriptive!) and just general Wonderland craziness. Some sweet, touching moments. HEARTATTACKS FOR THE READER. Swoony romance scenes (tbh, not my faves). MORPHEUS.
In conclusion, I would strongly, strongly, strongly recommend this trilogy to each and every one of you! I know that it (definitely) isn't for everyone … but it is definitely worth a shot. Probably one of my favorite book series ever.
(also, every time that I read these books, I fall in love with them more and more)
⭐ ⭐ ⭐ ⭐
---
Hey! So as I said, I hope that you've enjoyed me reviewing the trilogy and that I've inspired you with my love to pick it up! How did y'all feel about the Tim Burton movies? I thought that they were so-so. Let us talk all the bookish things!