So. I know that today is Single's Awareness Day and I already missed the Valentine train … but have I ever been one for listening to rules? Lol. #nope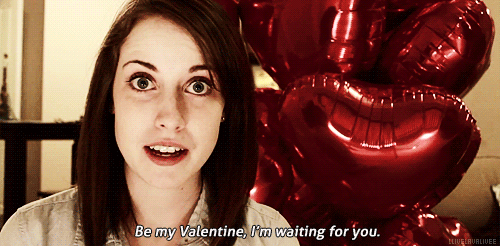 Now in case – on the off chance – that you aren't already sick of valentine-themed book posts … I have another one coming your way. My favorite four love interests! And, to balance it out so that we don't get too mushy, four of my least favorites!
I also recently realized that I tend to go on and on about the same books/characters, so I'm trying to branch out a little in this post! Get a little more variation in these lists. 😉
(also realized that these are almost all dudes 😛 )
---
Love:
Morpheus
Okay. I know, I know. I just LOVE  Morpheus. For those of you who don't know, Morpheus is the cocky, infuriating, moth-morphing demon(ish) love interest from Splintered. And oH BE STILL MY BEATING HEART. I've gushed about him so much, but let me do it just a little bit more.
Some could argue that Morpheus is bad for Alyssa, but I disagree. Partially. Morpheus stretches Alyssa so that she can grow to her full potential and mercilessly teasing Jeb (the other love interest of Alyssa's) all while remaining incredibly sexy. I know, he's practically a god. 😉
---
Peeta
Yes! I put Peeta on here! And it isn't that I don't like Gale (because I do), but I just loved Katniss and Peeta. I mean, they both just balanced each other out so well and they are, well, they're adorable together. (When Katniss isn't trying to kill him, lol)
Besides, what's not to love about Peeta? He's funny and sweet, but not a completely pushover like people think that he is. Peeta is just … Peeta. I mean for goodness sake, he's named after bread.
---
Rhys
(The Two Princesses of Bamarre)
So. I don't think that I ever talk about this book enough. Yes, it is a children's book. But do I care? Lol nope. Everything about The Two Princesses is perfect (or, well, almost perfect). But what makes it the most? Rhys.
Rhys is just, well, everything. He was probably my first real fictional crush (and not just because his name is Rhys, haha). He's sweet and funny (yea, like Peeta … but in completely different ways) and oh, maybe I should mention this … but he's a freakin' sorcerer. I know. And he's just absolutely adorable with Addie!!!! *am in love*
---
Andrius Arvydas
Here's another one that I don't talk enough about.
Andrius is … well … I dunno. He is sharp and sassy and insecure. He's completely caring and kind, but hides it. He tore apart a precious book and yet I still love him, which should be a testament to just how much I love him.
He is a very beautifully written character – very deep and tragic. He takes all of Lina's abuse when she doesn't understand the situation … just to protect those that he loves most. He writes Lina beautiful notes in a book and no, I'm not crying. You are.
---
Don't:
Gansey
(The Raven Cycle)
Ah! Don't kill me now! This isn't to say that I didn't like Gansey (I did), but I just didn't like him as a love interest. See, I think that I would have loved Gansey even more (if that's possible) if there wasn't a girl involved. Alas, Blue is completely and utterly fabulous and Gansey happened to notice.
Also, I'm a dieheart Blue-and-Adam shipper. I loved the two of them together! Loved, loved, loved it! So … I just didn't love Gansey in the love-interest position.
---
Jeb
Yup, another one that I really just didn't like as a love interest. (Though, tbh, I didn't love him as a character all that much, either.) Jeb is Morpheus' counterpart in the love triangle, and he is just so … grrr! He is manipulative (yes, morpheus is, too, hush) and a cheater and overall I was just frustrated with him.
He and Alyssa had this passionate chemistry that I just … didn't understand. It didn't feel substantial, if you get me.
But hey, I'm only the love expert that spent Valentine's Day alone. (Just call me the Hitch of relationships)
---
Josh Sanderson
Aha! Another one! Josh was one where I got frustrated with him (and didn't love him with our MC) … but didn't exclusively dislike him. Though I will say that the movie DID make me like him even less. *shrugs*
I just hated how he went from one girl to another and didn't fully accept LJ's words (though I get that he was in a confusing situation) and that really lost points with me. Still, he's pretty cute (in the books).
---
Joana
Finally! A girl!
Now this is a didn't-love-love-interest that I actually didn't like. Sorry, guys! I did't love Joana.
You may be asking why she is included on this list when she is a main character … and that is because she's the love interest of another character and … well … I needed a girl for this list. I have nothing to apologize for.
(Totally didn't ship the two, btw. But. You could say that that ship sank. #noregrets )
---
Okay boys and girls! How was your Valentine's day? Single Awareness day? Another day? Can we puh-lease fangirl about or favorite love interests?? Or grumble about our least favorites? Can't wait to chat with y'all!