Well I have a very special book for you today that I am reviewing. If you want to know why it is so special, then read section 1 paragraph 6.
The book is Splintered (the first in the Splintered trilogy) and is by Ms A.G. Howard. She is lovely. Tell her hi.
Splintered is an Alice's Adventures in Wonderland retelling/spin-off (the book was originally by Lewis Carroll). But … darker.
So do enjoy!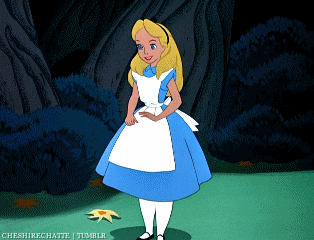 ---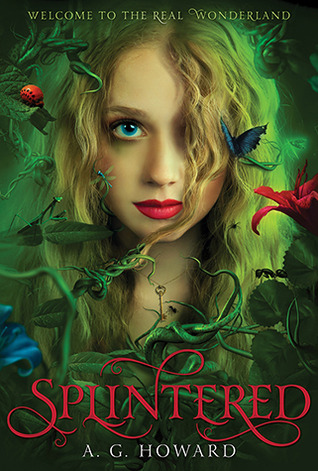 ---
What I thought:
So. To be honest, I don't even know why I liked this book so much. I really can't pinpoint any specific things, but I shall still try.
Morpheus. If course he is on here. And for those of you who have read Entwined by Heather Dixon, Morpheus is very similar to the very dear Mr Keeper.
There's just something about the character that I just love. I continuously go back and forth between wanting to slap him and fawning over him. And I love how the whole book you really can't figure Morpheus out. Even I, as I reread it, couldn't.
I also love the world/idea. Now I will admit, I haven't read Carroll's Alice. But I can still appreciate the artistic liberties that Ms Howard took, and the … goth-ness that was added. I would have liked to see MORE dark, but still.
And along that vein, I love how Alyssa and her family's "curse" all fit in. I don't want to give spoilers, so I shan't delve, but yes.
Need I mention this? But Alyssa and Alyssa? Even though she and I are quite different, hullo, IT'S MY NAME. I quite enjoyed this.
Characters:
Haha, Alyssa, dear.
SO. Alyssa and I are quite different, as I said. Near opposites, perhaps. I still (somewhat) enjoyed her as a narrator. She's stubborn and weak at the same time. But she has an attitude that I just love and she creates paintings with murdered bugs? Oh, and she has a fabulous name.
Jeb is somewhat … okay, okay you know what? No, he's not confusing. I just plain don't like him. He may be super hot (look at the third book's cover), but he is an awful guy. Super manipulative and just don't get me started. STEER CLEAR, ALYSSA.
Morpheus, on the other hand, is fab. He is also manipulative, but it is somehow okay? Jk. Everything does is sort of justified and we can understand him and nothing he does is actually all that horrible. Plus, if you don't laugh or squeal at least once while he's in page, you're lying.
And can we all just give a round in appreciation for Alyssa's father???
Writing/Plot:
As I already said, I rather enjoyed the creativity in this, along with the plot.

It is (I take?) very reminiscent of Alice in Wonderland, but … darker. It felt not just whimsy and odd, but magical, as well.
Problems:
Eh, well, the love triangle. You see, it's not just my normal distaste for triangles (sorry, trig), but the options. Alyssa is choosing between bad and worse, you choose who is who. (Jeb is worse. So much.) And like yes, this is so frustrating to read because ALYSSA, MY TWIN WHO IS NOTHING LIKE ME, THERE ARE MORE FISH IN THE SEA, SWEETHEART.
i actually liked the love triangle … sort of?
But I was just bothered by how Alyssa flits from one to the other in a matter of seconds.
As I've already said, Jeb and I weren't besties. But he annoyed me in how he would almost swear, or use bug substitutes. This is a personal bookish pet peeve of mine.
Other/Summary:
Aha, you smol children, do not read. Romance is pretty amped, I guess. Well, more tension. BUT IF I HEAR THE WORD SENSUAL ONE MORE TIME… Lots of kissing and attraction, you know the drill.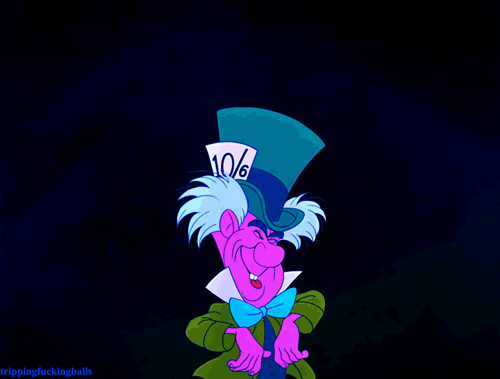 There is some mild action, but not much is noteworthy.
I would definitely rec this to you, my readers, out there. Now most of you probably won't like it, but I still wholeheartedly recommend it.
All in all, I loved this book (and series) though I can't exactly say why. Such good books. XD
⭐ ⭐ ⭐ ⭐
---
So, my lovelies, whaddya think? What is a book character that shares your name? Are they similar? Let me know down below! Anyways, if you haven't read Splintered, read it. If you have, then lettuce discuss!!!