Good Morning my lovelies! How are you all? Do you have snow?? I do. It just won't end! *evil, slightly crazed, laughter*
So anyways, there's this book. I'm sure that some of you have heard of it (especially if you read this blog post title). It is Caraval and is by the lovely Miss Stephanie Garber. And let me tell you something about it.
OH MY FLIPPIN' GOODNESS. IT IS SOOOO GOOD. LIKE, WHAT? Okay. It's been a little bit since I read this … but stiLL?? The next book comes out in, like, a month and oh my lord. XD Excuse me while I go and die of confused tears.
Now. I'm sure that you're here for the review. So please, do carry on my wayward son.
---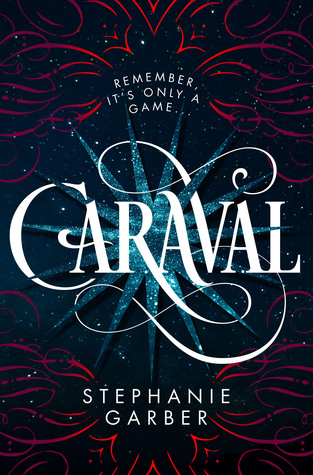 ---
What I liked:
So, TBH, I'm not even sure why this book was so good. Maybe it was the magic. Maybe it was the handsome guys. Maybe the FREAKING CARNIVAL AESTHETIC. Sorry. But it seems that every good blogger has to love carnivals … despite never being to one??? (And A Series of Unfortunate Events may have ruined that experience for all of us.)
But this whole book is like Scarlett trying to save her baby sis from dying (ugh, why even bother? Siblings are #overrated) and going to a magic carnival that is slightly scary. Oh, BTW, the carnival kidnapped Baby Sis. If Scarlett doesn't complete the challenge or whatnot, Sis dies. Drama. Handsome boys. The norm.
But I just felt like I was at the Carnival, ya know? Experiencing all of the magical wonders + horrors. 10/10
Characters:
Scarlett was so-so for me. I didn't hate her by any means. I actually thought that she was far better than many female protagonists. BUT. She also wasn't my favorite, you know? I could totally relate to her Big Sister stuff because I have four younger munchkin siblings to lord over.
Tella honestly wasn't my favorite. I actually found her quite annoying (we'll see how book 2 goes since she is the narrator.)
Oooookay. Against my better judgment, I ended up loving Julian. I KNEW I shouldn't because, um, hello?? He's the love interest! But still. I could not resist.
Writing/Plot:
First off, I loved how the book opened up with letters. I just feel like it really set the scene more than anything else could have. Actually, that was one of the reasons why I picked it up at the library. I love letters. And numbers.
I liked the writing a lot. I feel like the descriptions were pretty good, like, I felt as if I were actually there which was pretty cool.
The ending was good. I think?? TBH, it's been a … time … since I read it and I can now no longer remember anything.
Problems:
Ehhh. Well the book actually had a lot of slow points. The world was beautiful but the plot was a little slow at times. Also, Tella = no. Scarlett was also a little dry.
Other/Summary:
This book, while a little slow at times, was super good! Lots of carnival aesthetic and magic and handsome boys. It was good. Seriously. Read it. Now. NOOOOW.
Ahem. I highly recommend.
Book two comes out in, like, literally a month. I cannot contain any of my excitement and I am now spewing glitter. It makes typing quite hard.
So. Um. Kissing/making out in the book. Not much of anything else.
⭐ ⭐ ⭐ ⭐
---
Hey! Hey there! How's it goin'? Well. I would like to blast something at your face. I have spent HOURS working on this. I reorganized + added to + reformatted my Reviews Page (which has allll of my reviews on it). Please read it. *sad vampire bat eyes* Thank you. SO. How's your day been going? What's is your favorite book "aesthetic"? I'd love to know! See you next week!