Hello, my friends!
Tonight I am reviewing a book called, obviously, Eliza and Her Monsters. It is a stand-alone written by Ms. Francesca Zappia. It is full of art, introverts, and other amazingness. Please enjoy the review, and DEFINITELY check out the book!
(P.S. Click on the cover to take you to Goodreads!)
---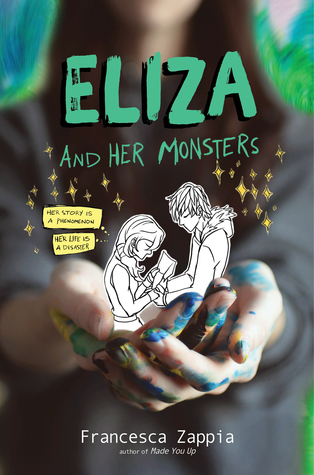 ---
Things I liked:
So, like, the actual book is GORGEOUS. If you have the chance to read it in hardback, DO IT.
Okay. So what I mean is that is is SO THICK for a contemporary. Like, thank you?? It's only maybe four hundred and some pages, but for a CONTEMPORARY?! And I just LOVE thick-booked books' spines. Especially if they're green.
Now, back to the review. (Where is your C3PO when you need him to get you back on track??)
This book is FULL of beautiful quotes. Like, here's my absolute fave:
"If math homework were a real person, I'd be doing 25 to life. #mathslaughter "

~Wallace
Yeah, I dunno why I loved this so much. OH WAIT. Physics. That is why.
Anyways. Wallace is just the best ever. He's super gentle and quiet and is the funniest character that you will ever meet. I kid you not. Because the odds of you meeting a book character? Yeah.
So this book had many other poignant (and funny!) quotes that I wrote down and can't find where I put them…
I also squealed a lot during this book? Like what is happening to me? I am being converted to the romance/contemporary side?? (Much worse than the light side, IMO.)
Also, I've seen other reviewers say this, but I loved the emphasis on the internet world, and how friends made through the internet are still friends. Eliza's two main buddies are Max (who is a twenty-something just livin' life) and Emmy (who is a fourteen-year-old prodigy in college), and how they just got along. I mean, my only friend IRL is Advil, otherwise they are all online. So. (Shout out to my internet friend, Simi!)
+ Gorgeous art.
Characters:
Eliza is … well, Eliza. So, here. I don't love her, per se. She was doing a lot of self-pitying, which I CANNOT STAND. It was just … gah. It frustrated me. To no end. Like this paragraph. Don't get me wrong, she was a great character! I sorta liked her, and I'm sure that many people love her, and she's EXTREMELY relatable for all of my introvert homies out there.
And now, time for the REAL star of the show! Wallace Warland!! Whoop! I will admit, I liked his online persona WAAAAAAAAY more than the "actual" him. He was, like, almost as funny as me, which is pretty hard to believe, I know. And he's actually pretty sweet, so.
Was everything cheesecake and popcorn? Well, no. I was SUPER frustrated with him in the middle/end. I wanted to slap him pretty hard. (okay, maybe I did it to the book…) He was just being kinda petty in my mind. Egh.
My other two favorite characters were Sully and Church. Were they featured in the book much? Well, no. But- Did they have personalities? Sorta, but- So why did you like them? BECAUSE. They were the only two who didn't really tick me off (them, and Max). Also. Even though they didn't have huge character development arcs, and they were basically twins the whole book, I love how the author really pulled them out at the end. CAN I JUST SAY THAT I WANTED TO CRY BECAUSE I LOVE THEM SO MUCH.
Max and Emmy are Eliza's two main internet friends. I honestly kind of found Emmy annoying. Like, I appreciated her, but still. Max wasn't actually in it all that much, either, but I still liked him. The poor guys was stuck in all the girl talk…
The parents kind of felt very 1-D to me, and very stereo-typed. THOUGH, THOUGH they were developed more towards the end, so that was cool.
I still didn't like them.
Writing/Plot:
Honestly, there wasn't a whole bunch of plot to this one. It was more following Eliza's day-to-day struggles and her developing relationships with people, at least until later. And somehow, this plot-less plot, kept me engaged. It was just so … honest, I guess? I'm not sure. But I was definitely tempted to pull an all-nighter to finish this one. 😉
Problems:
I didn't really love any of the characters, namely Eliza. While she was a great (and very relatable) character, I was just ticked off with her the whole time.
There didn't really feel like there was anything NEW, per se. It didn't feel over-used (to me), I just … ugh, I don't know.
And maybe it's just my contemporary-hating soul, but I didn't really love it. The writing kept me interested, but the story/characters really did not.
Other/Summary:
So, while this book really wasn't for me, I know that TONS of others definitely adored this book, so you may like it! Definitely a draw for introverts/peeps with anxiety … and contemporary fans.
+ Wallace is life.
⭐ ⭐ ⭐
---
And there you go, guys! I know that tons of people read this book I think last year?? And most of them loved it. I DEFINITELY read this, and I sincerely hope that you love it!! Please comment below on all things pertaining to internet friends, monsters, and books!